The Avenir
Prime District – Riverfront – Freehold
The Avenir (previous Pacific Mansion Enbloc) is a long awaited Freehold condo project at Robertson Quay in prime district 9. It has a large plot of over 129,000 sqft on a sloping land parcel, with 376 apartments across 2 towers. The layouts are generally spacious. However, certain layout details do leave one ponder for a moment, before proceeding with the purchase.
1-Bedroom from $1.55m
2-Bedroom from $2.358m
3-Bedroom from $3.324m
4-Bedroom from $6.229m
Rustic City Home
Near Singapore River  
Robertson Quay is a popular location for expats families living in Singapore. The locale by the Singapore River is tranquil, relaxing, with less motor traffic and more greenery. The Avenir at River Valley Close seems to be designed with the Roberson Quay's allure in mind. The two towers stand tall, offering views of the Orchard Road city view and Singapore River waterfront. The development is clad with greenery and rustic earthly colours.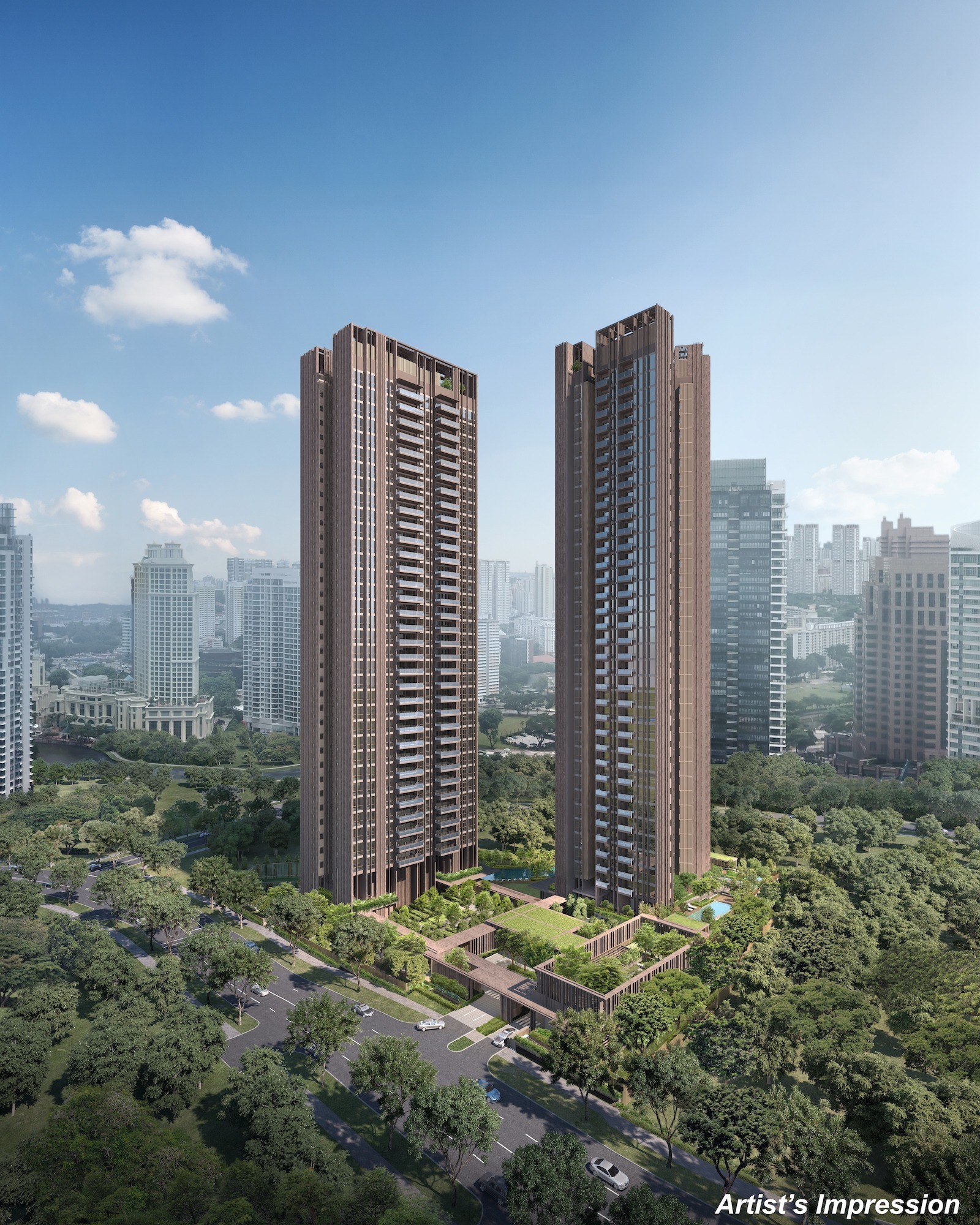 The Avenir Video
Fly-Through Animation
A presentation on the development concept, style and facilities. 
Centrally Located
For Work and Leisure 
District 9 is one of Singapore's most prime districts. The upcoming Great World MRT station is only 1 stop away from Orchard station, where one of Singapore's most popular shopping distination ION Orchard is. The entire Orchard Road Shopping Belt is within easy reach. Central Business District, Fort Canning Park and Singapore's Civic District are just a short travel away.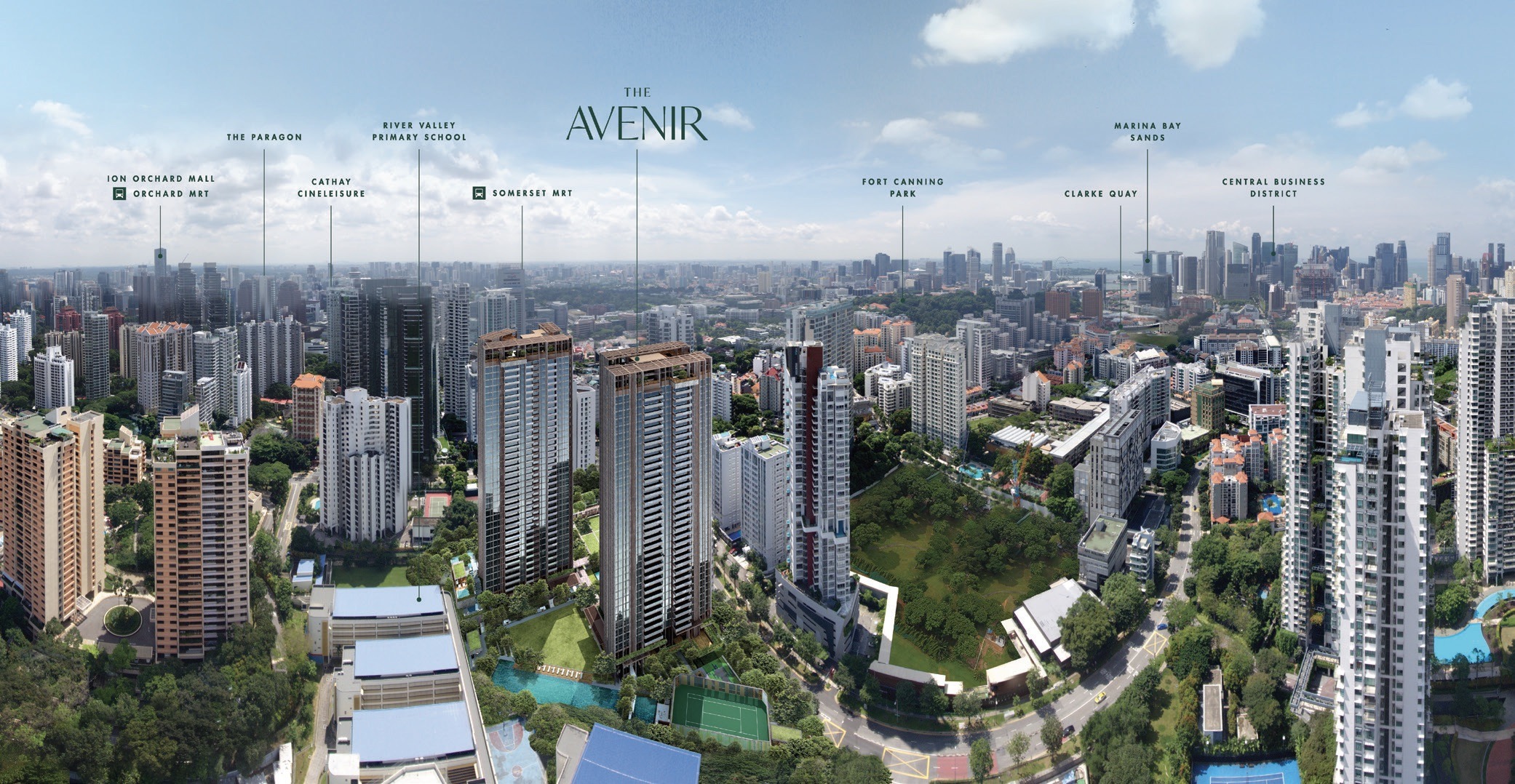 A Sense of Openness
More Privacy, Less Obstruction Please
Many existing condo developments in the city are positioned with short building to building distances, limiting comfort and the sense of personal space. The Avenir towers are orientated generally North-South, allowing more breeze through the apartments. The two towers are positioned in a way that the apartment units do not face each another across the site.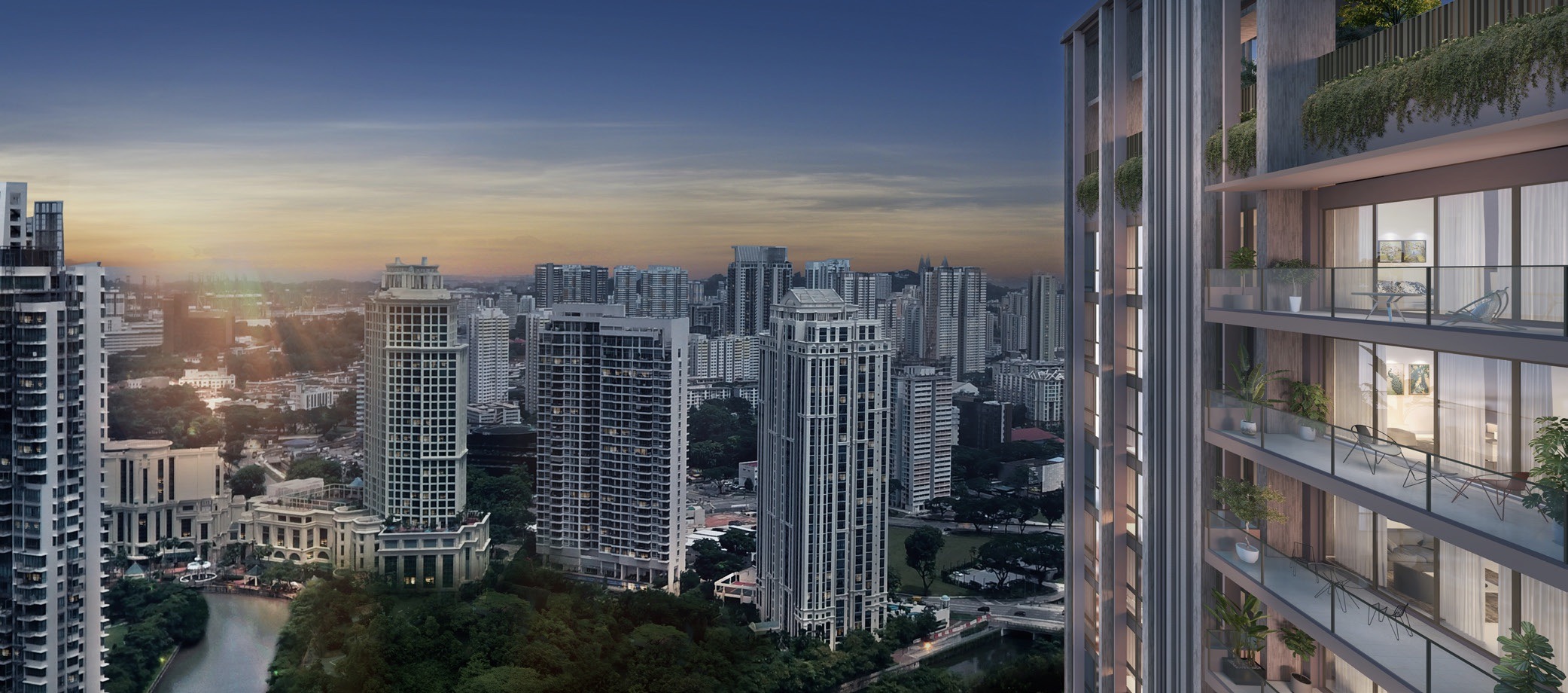 Welcome Home
Relaxing Welcome Lounge
Upon your arrival, the warm colours and verdant foliage welcome you home to a relaxing and spacious setting.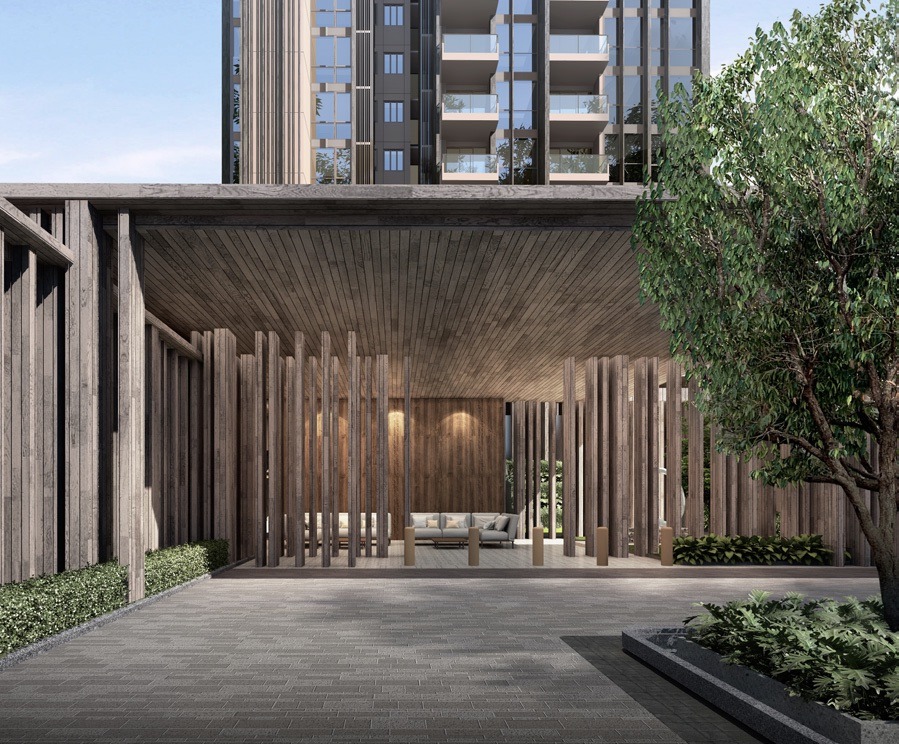 Lush Botany
The Great Lawn
The gym has a wide and open view of the the great lawn.
Water & Greenery Features 
Multiple gardens and water features for recreation and relaxation.
Tranquility Garden
Enjoy a moment of quietness.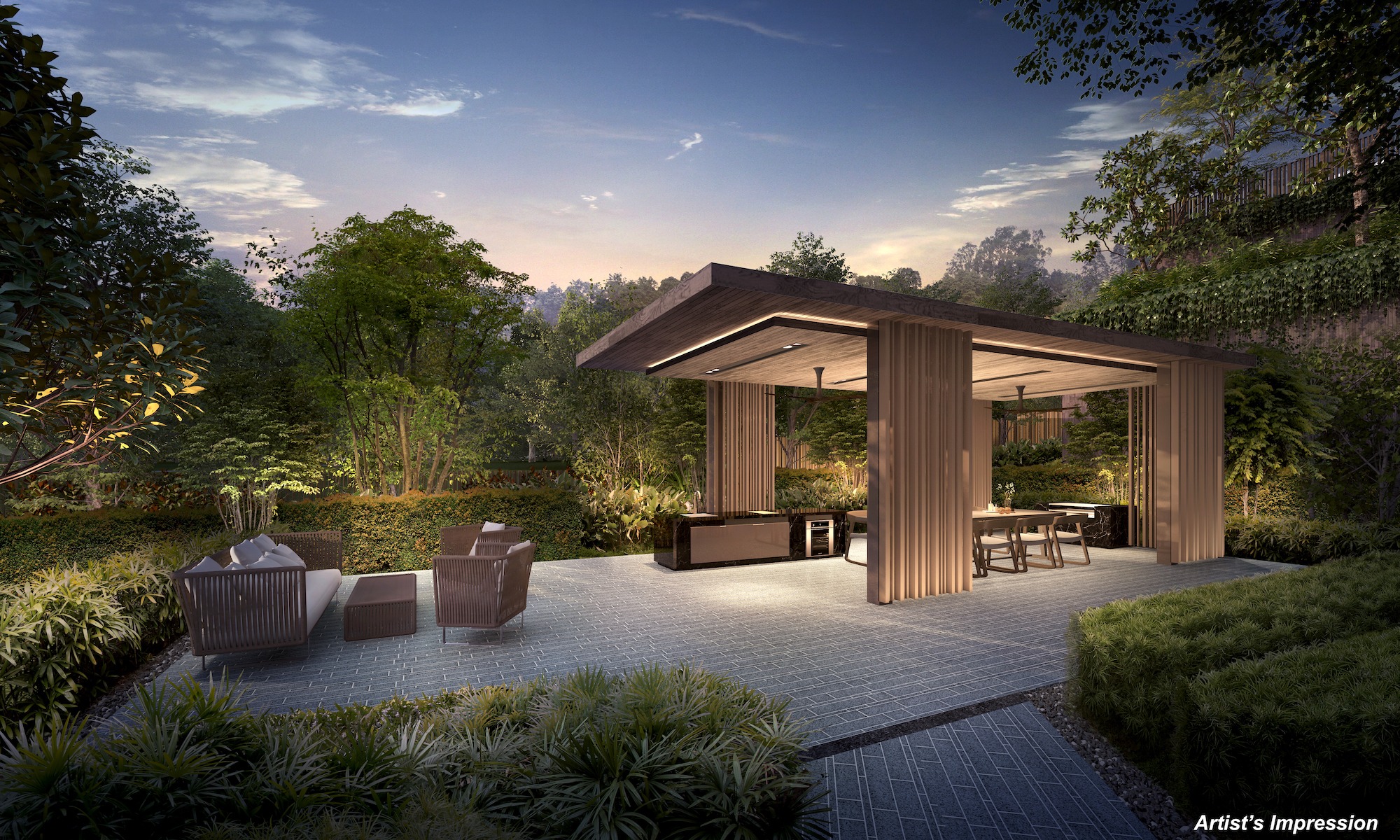 Gourmet Salon
For gatherings of families and friends, with lots of food, fun and laughter.
50m Lap Pool
The Avenir has a full suite of popular condo facilities, including a tennis court, sky lounge, BBQ pit, gym and the lap pool.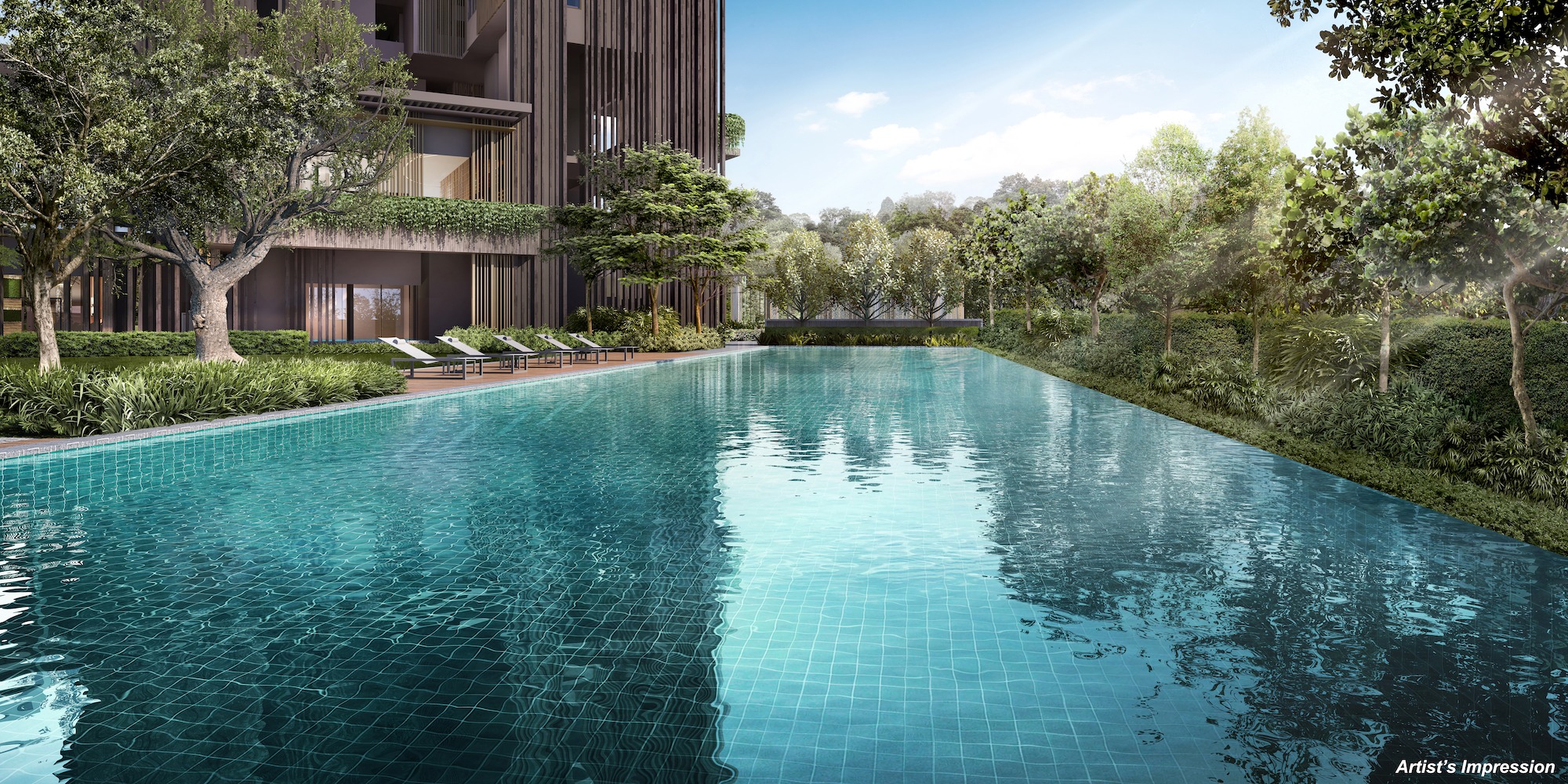 More Relaxation Spaces
The Hydrotherapy Pool has massaging spa jets to relax your tense muscles. The Roof Gardens let you enjoy panoramic views of the surrounding cityscape.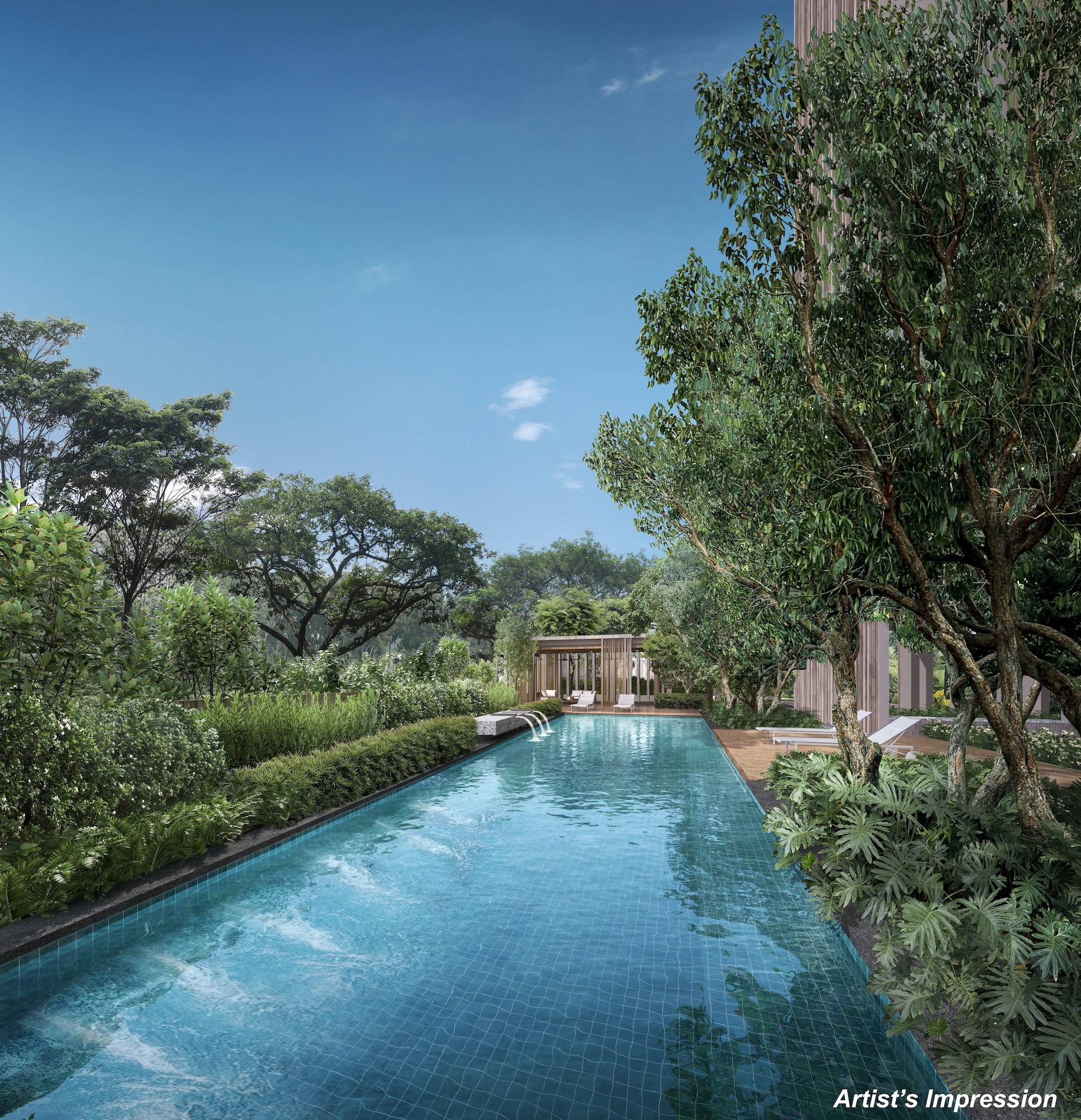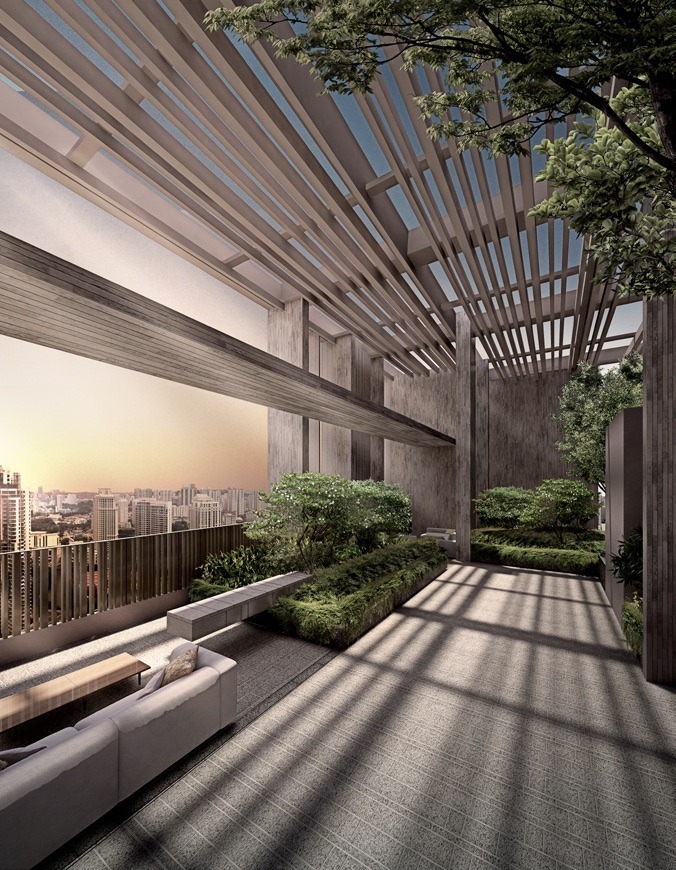 Interiors
Modern Warm Colours
The Avenir interiors are generally in warm colour tones. The living and dining areas, bedrooms and kitchens are all quite spacious. The first impression to most visitors is that it feels quite comfortable.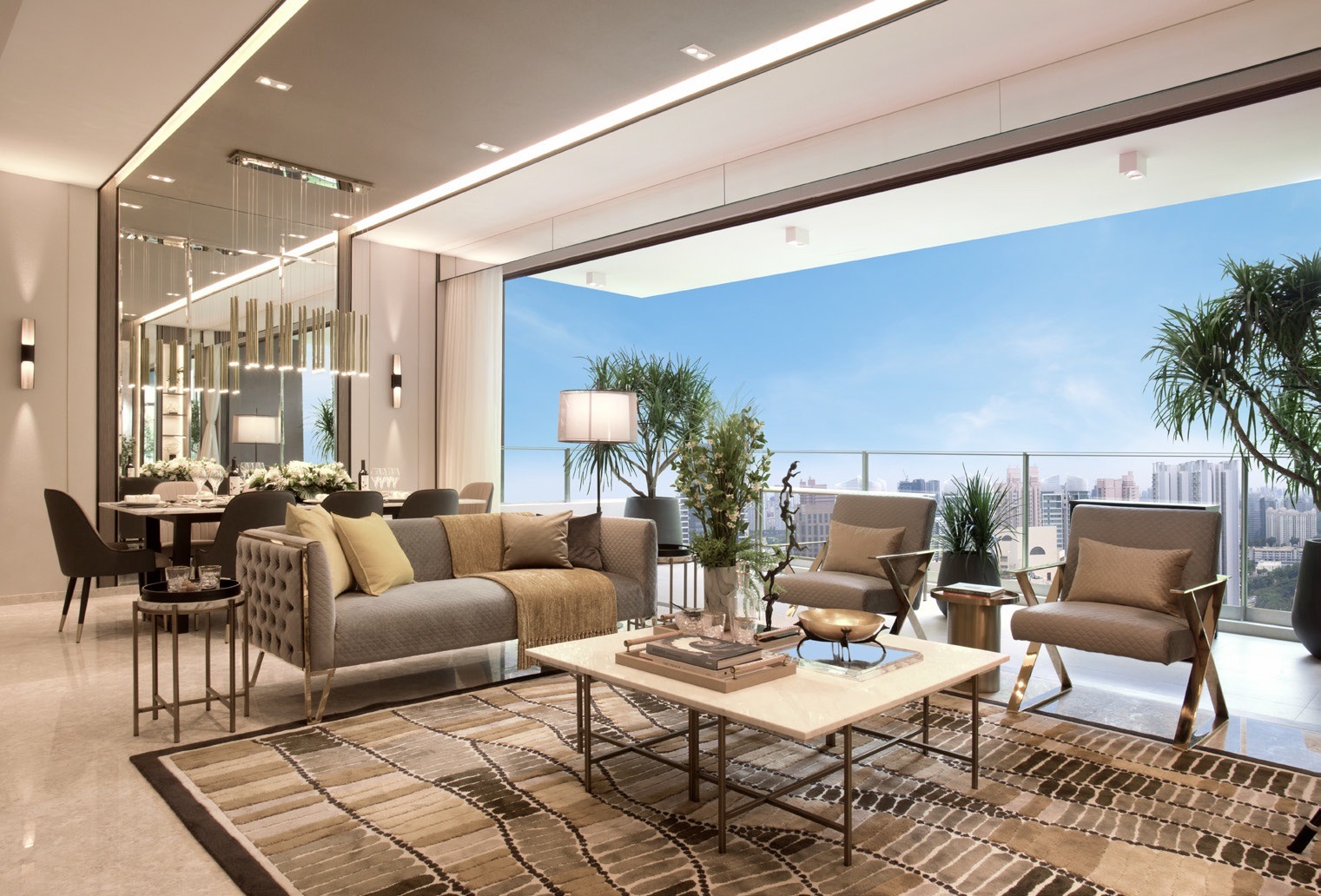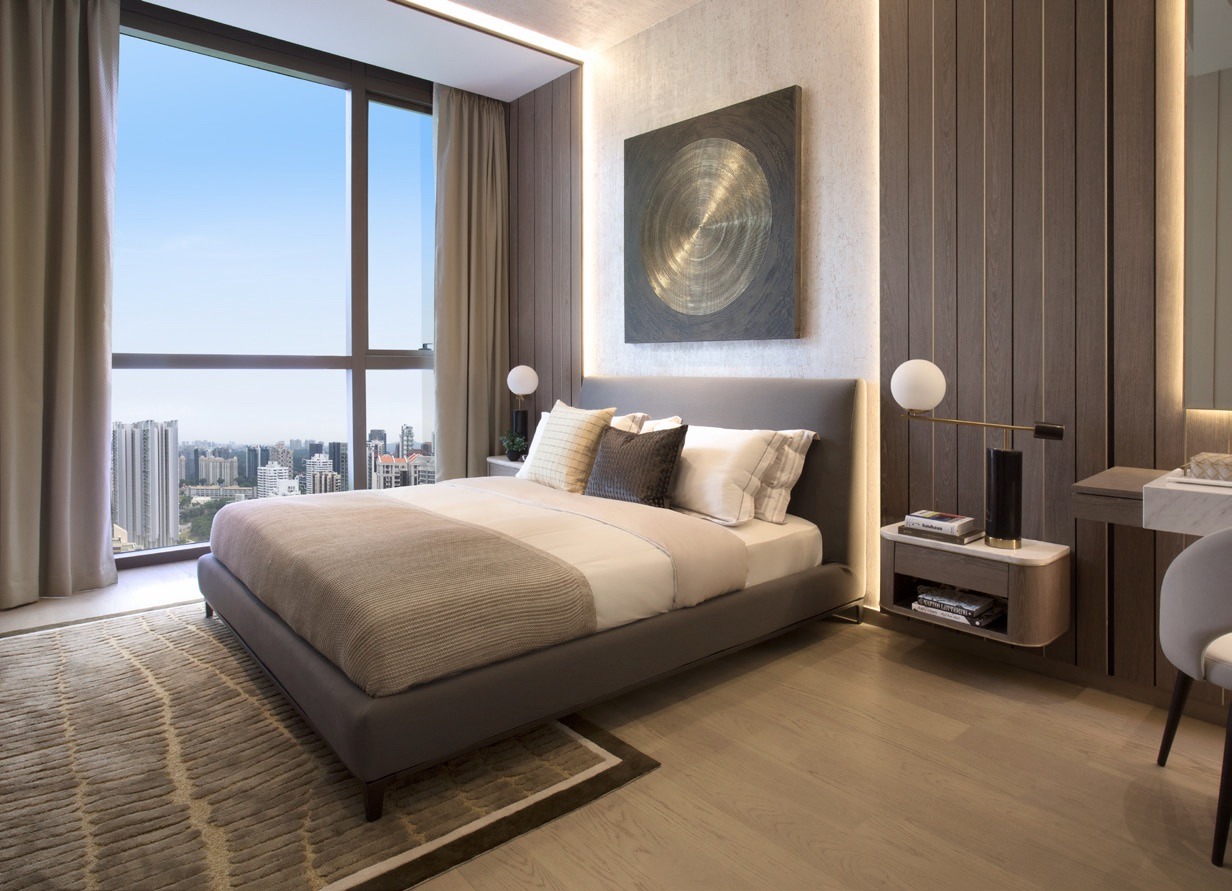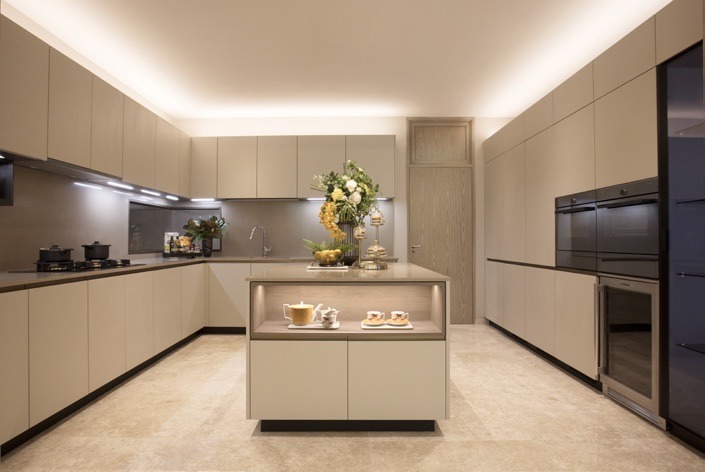 Block 8 Level 1
Block 10 Level 2

a. Arrival Courtyard
b. Guard House
c. Welcome Lounge
d. Sculpture Court
f. Putting Garden
g. Gym

h. Reading Patio
i. Lazy Lounge
j. Social Terrace
k. Bin Centre
l. Substation
m. Generator
n. Pedestrian Sidegate
o. Bicycle Park

Block 8 B1
Block 10 Level 1

p. Clubhouse
q. Great Lawn
r. Picnic Lounge
s. Gourmet Salon
t. Afternoon-Tea Terrace
u. 50m Lap Pool

v. Sun Deck
w. Wading Pool
x. Fun Deck
y. Social Corner
z. Children's Playground
aa. Spice Garden
bb. BBQ Pits
cc. Tennis Court
dd. Pedestrian Sidegate

Block 8 Level 2


ee. Spa Pavilion
ff. Water Lily Pond
gg. Meditation Deck
hh. Yoga Deck
ii. Hydrotherapy Pool

jj. Pool Deck
kk. Relaxation Pavilion
ll. Outdoor Fitness Corner
mm. Garden Seating
nn. Herbs Garden
oo. Urban Farm

Block 8 Roof

Sunset Lounge
Twilight Lounge
Sky Lounge
Quiet Alcove

Block 10 Roof

Solitaire Patio
Riverview Lounge
Sky Lounge
Cityview Corner
Diagrammatic Chart 
 1-Bedroom to 4-Bedroom
The Avenir offers various layouts from 1-bedroom to 4-bedroom units, as well as 3- & 4-bedroom apartments with private lift lobbies. Block 8 has 7 apartments per floor, while the premium Block 10 has only 4 apartments per floor. Block 10 apartments are of the larger 3- and 4-bedroom layouts, with each apartment having its own private lift lobby. One thing regarding Block 10 apartments that puzzles many prospective buyers, is that while the kitchen is very spacious, air-conditioned and fully equipped with high-end kitchen appliances, there isn't any window in the kitchen itself to facilitate natural ventilation. Asians who fancy stir-fry dishes might need to do some modifications to the layouts.
FLOOR PLANS
Selected Units with Prices
Browse through the selected floor plans to choose your preferred layout.
PROJECT DETAILS
| | |
| --- | --- |
| PROJECT NAME | The Avenir |
| TOTAL NO. OF UNITS | 376 |
| DISTRICT | 9 |
| ADDRESS | 8 River Valley Close, Singapore 238432 |
| LAND TENURE | Freehold |
| SITE AREA | Approx. 12,044.7 sqm / 129,648.07 sqft |
| EXPECTED VACANT POSSESSION | 1 Aug 2025 |
| EXPECTED LEGAL COMPLETION | 1 Aug 2028 |
| DEVELOPER | Hong Leong Holdings, GuocoLand & Hong Realty |
| ARCHITECT | ADDP Architects LLP & Studio Milou  |
Location Map
Amenities Nearby
The Avenir is within walking distance to the upcoming Great World MRT station, which is part of the Thomson-East Coast MRT line. Orchard station along with ION Orchard is only 1 stop away. Also within walking distance is Great World City shopping mall, which has a cinema, foodcourt, supermarket, as well as various retail, F&B and services options. The reputable River Valley Primary School is located just next to The Avenir. Singapore River, as well as the many dining options lined along the riverside, are within a short walk too. Robertson Quay is a tranquil and relaxing lifestyle destination, popular for a stroll or jog during sunrise and sunset.